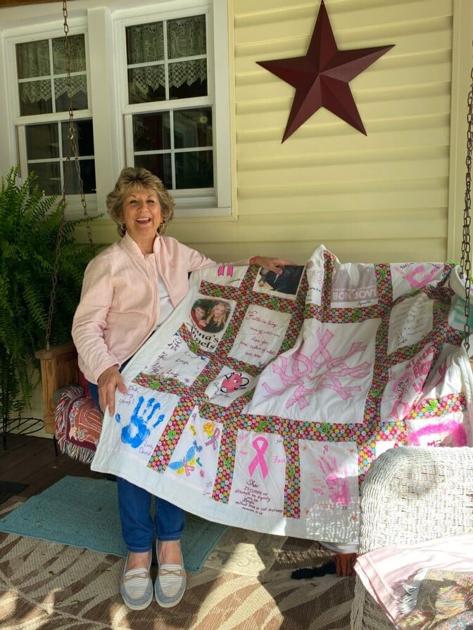 In February, Debra Thomas will be 10 years old without breast cancer. But getting there was not easy.
Woman Hollsopple has had six surgeries in two years and credits the support of her loved ones, especially her husband Larry, for helping her reach this point.
"When you go through something like this, you realize that you need your family," she said.
Thomas' journey began with his annual mammogram in 2005.
After the appointment, she was contacted by her doctor, who told her stage 0 – or early stage – cancer cells had been found in her right breast.
Thomas, now 65, said the doctor told him it was not an aggressive form of the disease, but needed to be removed nonetheless.
This procedure was followed by 28 sessions of radiotherapy, once a day, except on weekends.
"Even though I had radiation every day, I never missed work," Thomas said.
At the time, she was employed by MetLife and after her first surgery, her former colleagues gave her a handmade quilt with individual patches.
Thomas said this group was like a second family providing support.
After radiation therapy, which burned his skin, Thomas was put on tamoxifen for five years and in 2010 it ended.
"I felt I was very lucky to have conquered what I called 'The Terrible Disease'," said Thomas.
Throughout the experience, her husband, who is a truck driver, was by her side.
Thomas said she couldn't have done it without him and added that she couldn't say enough about his support.
"With what is going on, it has brought our relationship so much closer," she said.
In May 2011, during another mammogram appointment, her doctor found that the cancer had returned.
Because she had already had radiation, it was not an option. Thomas was told the only way was a mastectomy.
After seeing other doctors for separate consultations, Thomas decided to go all the way and the six-hour operation took place in September 2011.
Thomas said the surgeon stretched a muscle in his back across his chest to allow for a future implant.
Then, in February 2012, her doctor requested that another mammogram be performed as a safety measure.
It was then that stage 1 cancer was discovered in her left breast.
"I was like, 'How could this have happened? "Said Thomas.
After considering the options, she decided to have another mastectomy in March 2012 – with the same procedure performed so that an implant could be placed later.
Later that week she fell very ill.
After several trips to Pittsburgh, it was determined that the drain placed after the surgery had become infected.
The breast extender had to be removed and a new implant was placed – the other being placed nine months later.
Meanwhile, her sister, Marjorie Beyer, stepped in to help.
"Whenever she needed me, I was there," Beyer said.
She was taking time off from work and the two were having coffee on the way to treatments, then having lunch on the way home.
"It brought us closer together," Beyer said.
Thomas nodded, remembering the stops at the Cheesecake Factory and the laughs they had there.
"It was just a fun time to bond together," she said.
Beyer described her sister as an extremely brave person and said she was her hero for going through what she did.
When Thomas reflects on her experience, she wonders what would have happened if she had never gone for mammograms. She now makes a point of telling other women to schedule their annual dates.
She said she praised God for helping her overcome cancer and that he "gave me this trip to make me stronger."
Today Thomas works for Kitron Technologies and every October she promotes breast cancer awareness.
"It is very close and dear to my heart," she said.