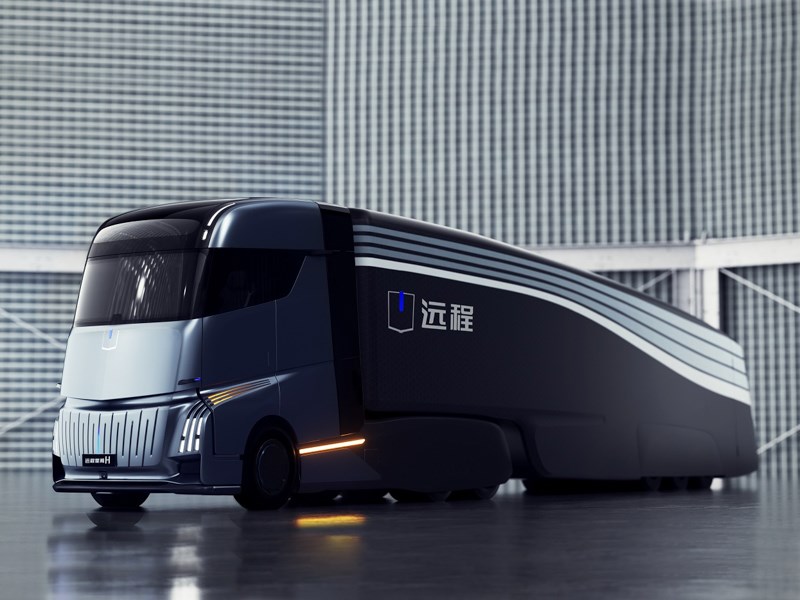 ---
Farizon Auto aims to get the truck on the road by 2024
Farizon Auto Homtruck Truck
Geely Holding Group's commercial vehicle brand Farizon Auto has unveiled its next-generation multi-drive semi-truck, the Homtruck, with production and first deliveries slated for early 2024.
Farizon Auto says when the first deliveries begin, the Homtruck will be one of the most advanced and cleanest utility vehicles on the road that focuses on efficiency, driver and pedestrian safety, and benefits from advancements. major issues in sustainable powertrains, and it is this last point that is most intriguing.
While many manufacturers are focusing on either electric (at least in the short term) or hydrogen, Farizon Auto says the architecture of its Homtruck has the potential to carry a number of powertrain options, including a range extender, a methanol hybrid and a pure electric with battery swap option allowing the Homtruck to be recharged at gas stations in minutes rather than a considerable amount of time, much like converted trucks by Janus Electric.
"The Farizon Auto Homtruck is the result of synergies between the technological expertise of Geely Holding and its partners in the global automotive industry.
The Homtruck represents a significant step towards a zero carbon net freight transportation system and opens the door to a new era for the logistics industry, "said Eric Li, Chairman of Geely Holding Group.
Farizon Auto claims the Homtruck owes its name to its creators' initial aspiration to make a prime mover that feels right at home, serving the living and emotional needs of its drivers.
Senior drivers around the world spend an enormous amount of time in their vehicles, often more than at home.
The mobile space created by the Homtruck integrates "work, life and entertainment", satisfying the vital needs of its driver.
Driver comfort has been touted as a major incentive to increase vehicle safety with the theory that well-rested drivers are more attentive and focused.
Based on an analysis of the working conditions and the driver's route, Farizon Auto is said to have designed a cockpit that applies the concept of a house and optimizes the space to create a space for driving and living.
The design includes a full bathroom with a shower and toilet, a single bed, a fridge, a teapot, a kitchen and even a small washing machine.
Ergonomic seat design and high-definition camera aim to ensure drivers are well rested and focused, while a smart AI assistant paired with full 360-degree cameras help keep the driver up to date with any issues. around the vehicle when it is moving or stationary.
Inside the Homtruck's cabin, designers applied natural soft-touch fabrics, durable plastics, and bamboo grain materials in an effort to create a healthy and eco-friendly environment, which they say. it is inspired by the peaceful bamboo forests of China.
In an increasing number of selected routes, the Homtruck will be able to use the L4 hands-off autonomous driving features and will also introduce conveying features for longer trips that will allow trucks to communicate with each other to maintain a safe speed and distance. which will reduce operator stress levels.
Hardware sensors such as LIDAR, millimeter wave radar, ultrasonic radar will be standard equipment with 5G and V2X communication.
The Homtruck will also be fully capable of being upgraded over time using Over the Air (OTA) software upgrades.
Much like the Tesla Semi, the Homtruck is a wait-and-see proposition for Australian roads.
Subscribe to our newsletter
Sign up to receive the ATN email newsletter, digital magazine and other offers we choose to share with you straight to your inbox
You can also follow our updates by joining our LinkedIn group or liking us on Facebook.

Trucks for hire | Forklifts for rent | Cranes for hire | Generators for rent | Transportable buildings for rent