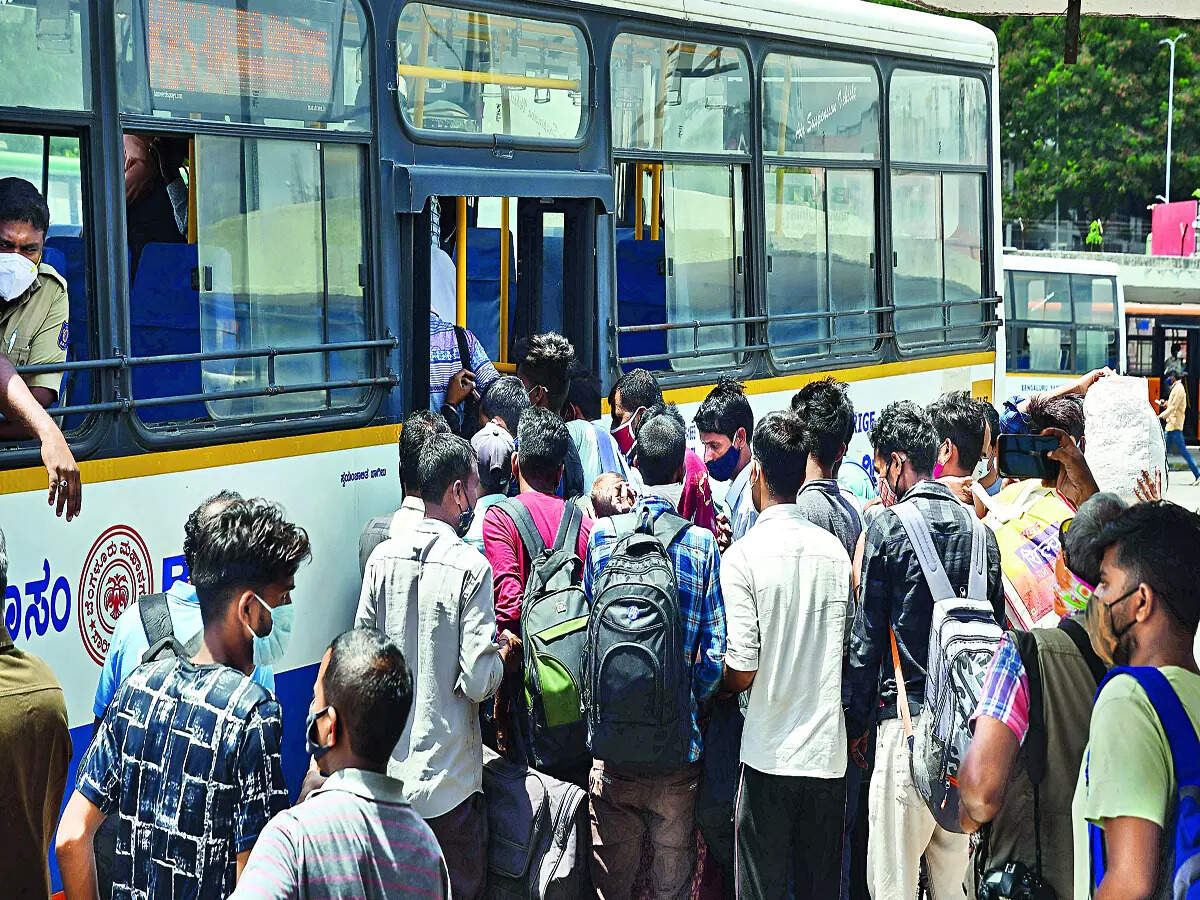 By Saumyangi Yadav

Bus Priority Week to educate commuters/citizens, government, local urban bodies, politicians on the benefits of public transport
The main focus of experts as well as civic activists in the city is sustainable mobility and a strong public transport system, thanks to the choked traffic and poor quality road infrastructure that has bedeviled Benagluru of late.
During this time, the indian institute of science considered 'Bus Priority Week' — a concept to encourage the use of BMTC buses by citizens.
Eight months ago, Professor Ashish vermaorganizer of Transportation Systems Engineering at IISc, submitted a concept note for the project to the Bangalore Metropolitan Transport Company — the plan has not yet been executed.
According to the concept, for a week, on every road in Bengaluru, with at least two lanes in either direction, one lane would be reserved for buses.
Some of the roads that have less than two lanes and a heavy movement of buses taking different routes would be turned into bus-only streets, Verma had suggested to civic agencies.
"The goal is to encourage as many people as possible to use public transport.
By making the buses free, this could be done. Thus, more people can experience and witness the tangible benefits of buses. Different government and private organizations and educational institutions can be enlisted and encouraged to offer incentives to their employees/students to travel to office or institutions by bus during the test bed week," explained the Dr Verma.
He also recommended that different businesses – stores, restaurants, etc. – be encouraged to offer incentives (through discounts, etc.) to bus users for the week in question.
Reverse

Although the plan is expected to increase bus ridership and reduce stigma around BMTC buses and their services, many obstacles still need to be overcome before it can be implemented.
For example, there are not enough buses in the BMTC fleet to accommodate the city's burgeoning population.
When BMTC made its services free for all commuters this year on August 15, as part of its 25th anniversary, up to 61.47 lakh passengers availed the free utility.
However, although ridership has increased, it was noticed that the BMTC fleet could not accommodate the large number of commuters. In fact, overcrowding inside buses has been reported in several areas.
"Bus Priority Week takes a lot of planning. The idea of ​​making it free is to allow as many people as possible to take advantage of the benefits of the priority week. So that all stakeholder groups, whether commuters, government officials, urban local authorities, politicians, each understand better. But of course, if they use the same number of buses, it will be insufficient. They must therefore deploy a large number of buses anticipating that many more people will take advantage of their services. It should be properly planned involving impact evaluation – what dimensions to consider for evaluation, how to collect data, etc. It cannot be implemented in a day or two without doing all that planning," Verma told the Bangalore Mirror.
Dr. Verma also added that although BMTC officials agreed that this was an important project, little had been done so far to move the idea forward.
MTC (IT) Director AV Surya Sen said that since many agencies are involved in the project plan, they cannot predict the reader's future yet: "DULT has sent a proposal to the BBMP. We need to coordinate with the NHAI and traffic police. We do not yet know when it will be able to be tested because many stakeholders must be taken into account.
The Bus Priority Week idea was first proposed on February 15, 2022 at a public meeting organized by the bangalore Bus Prayanikara Vedike (BBPV). The testbed should potentially demonstrate how key service gaps related to affordability, reliability, accessibility, etc. can be improved for all sections of the city's society.