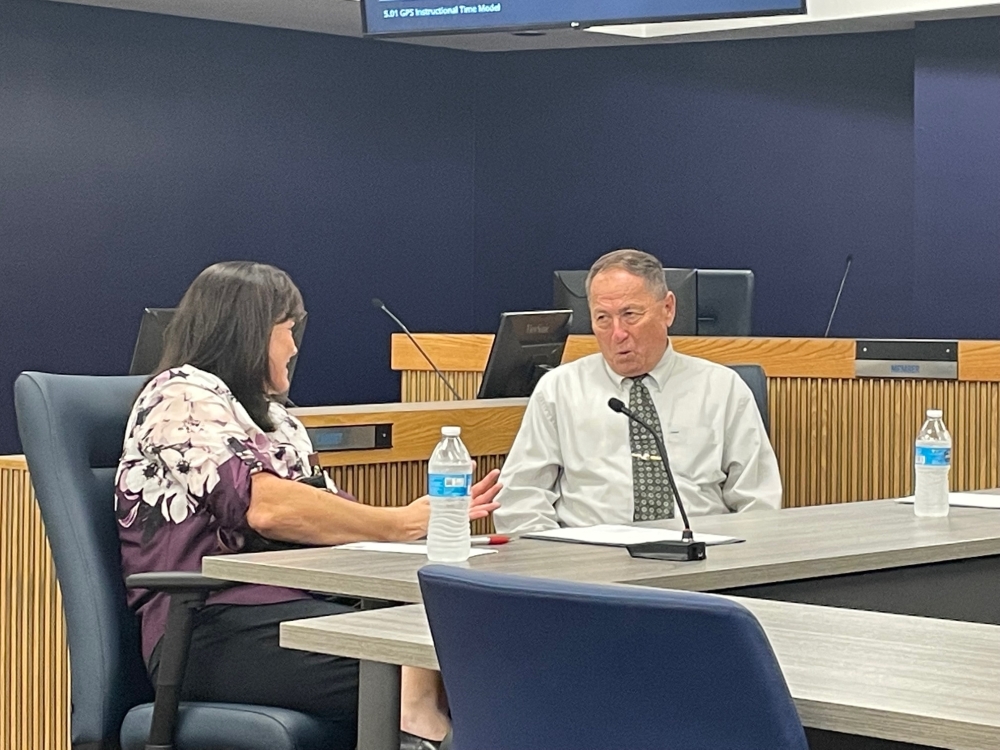 Board members Lori Wood (left) and William Parker get to know each other ahead of Parker's first meeting at the Gilbert Public Schools Governing Board. (Tom Blodgett / Community Impact Journal)
The Gilbert Public Schools Board of Trustees on August 10 adopted a teaching time model for synchronous learning in Grades 7 to 12 that will be used to meet new state requirements for average daily membership.
Average Daily Membership, or ADM, is the total enrollment of fractional and full-time students, less withdrawals, for each school day during the first 100 semester days and is a key figure in the State education funding formulas.
Under House Bill 2862, a board of trustees, after two public hearings, could adopt any teaching time model to meet the minimum annual teaching time and teaching time requirements. teaching hours prescribed by law to determine ADM.
Gilbert's second hearing took place on August 10, followed soon after by a unanimous passage.
The district will offer students in grades 7 to 12 three teaching models: in person; synchronous online learning with enrollment in a district high school; or asynchronous online learning through Gilbert Global Academy, the district's online school.
In the synchronous model, students will have to log in during normal class time and interact with the teacher, much as if the student is present. Attendance will be taken into account at the start of the class period and reported as if the student were present in a classroom. Under this model, students will be 100% funded according to state education funding formulas.
The more traditional asynchronous online learning, in which students take lessons at their own pace, will continue to be 95% for full-time online students and 85% for part-time online students.
Other elements
During the study session, Barbara Newman, assistant district superintendent for teaching and learning, and Vicki Jones, director of growth and development, presented to council the district educational framework designed to create a cohesive learning environment throughout the district. The framework was based on five principles, or "domains": connect, design, educate, assess and reflect. District Professional Learning Communities, or CAPs, will be formed under the framework and teachers will be evaluated with them.

The meeting was the first for new board member William Parker, who replaced Reed Carr. Maricopa County Schools Superintendent Steve Watson appointed Parker, who was sworn in on August 6. Carr resigned on June 30.

The council appointed Carr as a community member on the district audit committee. Carr was previously a member of the committee's board of directors.