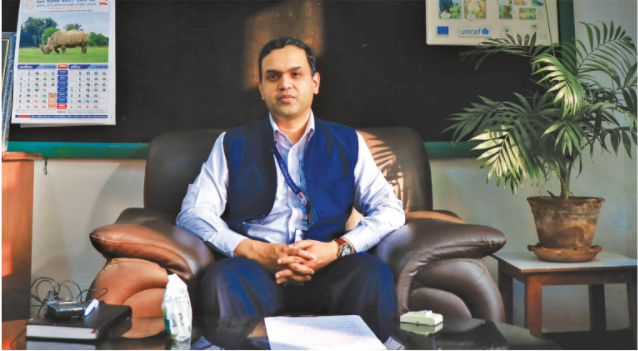 The government has pledged to vaccinate all eligible populations by mid-April. So far, 16,324,979 people, or 55.9% of the total population, have been fully vaccinated against Covid-19. It has taken more than a year for relevant authorities to reach the 55% mark since the country launched its vaccination campaign on January 27 last year. Now, the government needs to inoculate about 10 million more people for the country to be fully vaccinated against Covid-19, according to Nepal's total population estimated by the Central Bureau of Statistics at 29,192,480.
Vaccination of children between the ages of five and eleven has not yet started and vaccination campaigns have been interrupted in some places due to various problems.
The pandemic created such chaos in the second wave last year that the focus shifted to the fight against Covid-19. Then the Omicron variant threatened the country a few weeks ago. After seeing an increase in cases, infections have declined over the past few days.
In a country like Nepal, which has a fragile health system, the pandemic has posed a major challenge, as there are other health issues that cannot be ignored.
In this context, Arjun Poudel of the Post spoke with Dr. Bikek Kumar Lal, Director of the Family Welfare Division of the Department of Health Services, about the difficulties encountered in achieving the vaccination target and other problems. related to health in Nepal.
This interview has been condensed for clarity.
The government has pledged to vaccinate all eligible populations by mid-April. It's just two months. Will we be able to achieve the goal?
Any public health program initially faces a challenge, starting with hesitation. It's not easy to convince people of something new.
But when people understand the importance of the program, they gradually accept it. Whenever there is an increase in cases, acceptance is faster as people see and hear about ways to fight the disease. Then at some point we reach the plateau. In the case of Covid-19 and vaccination too, it was the same thing.
We all know that the journey after base camp gets even tougher. So we also have challenges when it comes to achieving the goal. We have already vaccinated people in accessible areas, and those who were aware of the risk and importance of vaccines and who are educated.
We need to administer the vaccine proactively. We must work hard, focus on micro-planning measures, reach every door and start a research and vaccination program. If we do these things, we can achieve the goal within the set time.
In some districts, the vaccination program has been interrupted since November and in other mountain districts, the program has been interrupted due to unfavorable weather conditions. What is the plan to address these barriers?
I recognize that we have enormous challenges ahead. The ongoing vaccination is a nationwide campaign launched aggressively for a short period. Concentrated efforts should be made for maximum coverage. And we've been in the program for over a year now. As the timeline gets longer, the whole lens can be weakened.
We in the federal government can only appeal to provincial and local governments. We cannot enforce our decisions. Not only the immunization program but other health programs are also implemented solely on the basis of goodwill.
The vaccination program may have been interrupted only in certain districts and local units. In the mountain districts there are some practical problems. If vaccination programs have been interrupted despite sufficient doses and there are no practical problems, this is a serious problem, which must be addressed as soon as possible.
The government does not have accurate data on vaccinated and unvaccinated people. It also lacks detailed records of vaccine supplies. What is the plan to resolve the data management issues, which have been a problem since the start of the vaccination campaign?
The electronic medical record is a good concept and many countries around the world are using it. Countries like India have proven that it is possible. While a country of over 1.3 billion people can keep its medical records up to date using electronic methods, why not Nepal, which has less than 30 million people?
For good medical record keeping, we need to have long-term planning and investment. We have long used the paper registration system. Due to a lack of sufficient personnel, our medical record keeping system has not improved. Health workers, who must administer the injections, must also update medical records. They are also the people who need to be deployed to deal with the surge in infections as well as to address other common health issues. They are overworked and overloaded.
That said, I do not trivialize data management because it is a major issue. We need to improve our data retention.
What is the current stock of vaccine doses? Are they sufficient for booster doses?
The actual number of doses in stock can only be provided by the Logistics Management Section. I can say that we have sufficient doses to administer boosters to those who were vaccinated six months ago. And we have several supply commitments, which will help us to continue the vaccination program. We asked all eligible people to get vaccinated, if they have not yet received doses; receive a second dose if they were only inoculated with the first dose and receive booster injections if they received their second injection six months ago.
From the crisis stage of the vaccine doses, we managed to manage sufficient doses to inoculate the entire population of the eligible age group. That we have also launched booster programs for all eligible people, we have to say that we are on the right track.
We have many other health issues apart from Covid-19. Since the beginning of the pandemic, all the force of the government has been diverted to fight against Covid-19. What has been the impact of the pandemic on other health issues?
We all know that our financial and human resources are limited. Due to Covid-19, our regular health programs have been hit hard. there is no doubt. We had to divert our human resources for the management of Covid cases. Those who have been employed for the regular vaccination of children have been deployed to vaccinate people against Covid-19. Healthcare facilities have been designated Covid-19 treatment facilities.
Patients with other conditions were even afraid to go to health facilities for services.
Several programs related to maternal health, child health, nutrition, mental health, regular health care services and non-communicable diseases have been affected by the pandemic.
The progress we have made in healthcare by spending millions of rupees and years of investment is at risk. Several health indicators deteriorated after the pandemic.
Health workers who have worked continuously for more than two years are exhausted. As the pandemic is a big problem and has affected the whole nation and the world, our priority was to save lives first.
But there is no denying that the pandemic has had such a huge impact on our regular health programs that we may have to start all over again, and that will be a huge task.
How long will we continue to focus on Covid-19?
It's a million dollar question. As long as the pandemic continues to be a big problem, we cannot ignore it. The world had not seen such a devastating health crisis in decades. If other variants of deadly types do not emerge and infection rates decline, we can – and should – focus on our regular health programs.
What would have been our situation if Omicron, the new super-contagious variant of the virus, had been as deadly as the Delta that wreaked havoc in the second wave?
The third wave of the pandemic, driven by Omicron, the new iteration of the virus, spread so quickly that we did not have time to apply restrictive measures. The virus seemed to be milder than Delta, so there wasn't much damage. If the variant of the virus was deadly like the Delta variant, our situation would have been much worse. Like some European countries, which faced the worst and terrifying situation of the first phase of the pandemic, our condition would have been worse than theirs, because our health system is weaker.
What lessons have we learned from the pandemic?
How we deal with the future pandemic might provide a better answer to the question of what we have learned from the current pandemic. If we start digging a well after a fire, it will mean that we have learned nothing, as we forgot everything after the devastating earthquakes of 2015.
I think we have learned a lot from this pandemic. Despite limited resources and so many constraints, including the confusion caused by the introduction of federalism, we managed to deal with the situation.