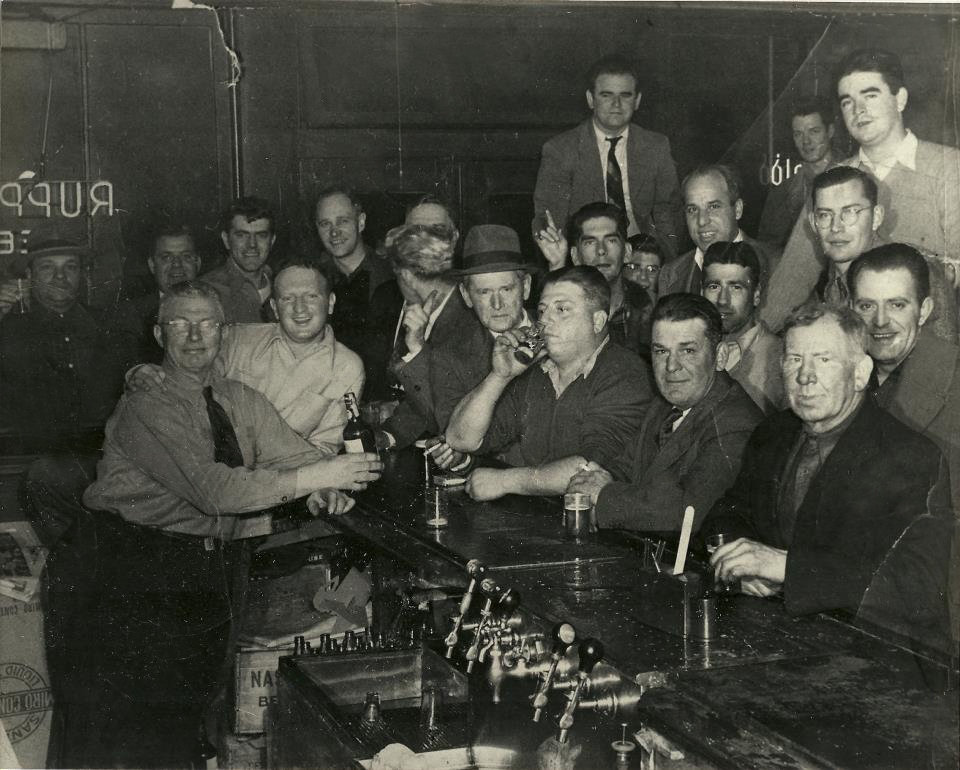 Visitors to the museum's "Last Call" exhibit on September 24 can expect to see vintage-style swing doors, quirky signs, and music that was popular at different stages of the tavern's existence. Tables will be set up to replicate the feeling of being inside the historic tavern.
Originally located a short walk north of Glen Street station, Stroppel's was a family business that was passed down through generations of Stroppel men. It eventually became a key location in the Glen Cove community.
In 1838, a five-room, two-story hotel opened on the property and housed visitors alighting from the train to spend the night. It later became Stroppel's Tavern when Frederick Herman Stroppel bought the property in 1870 and added the tavern in 1890 which took up one third of the building.
There is not much information about how the tavern was
during Prohibition, but many Long Islanders and business owners sought the help of "rum runners". These Long Island farmers and fishermen were enlisted to store liquor in their barns. When the booze arrived at Stroppel, most of the customers sat at the back entrance of the rectangular women's room.
Frederick Herman Stroppel passed his business on to his son Frederick (Dutch) Stroppel, who then passed it on to his son, John Stroppel, who was the last owner of the tavern in 1997.
John's son, Jack Jr. Stroppel, brother of playwright Frederick Stroppel, originally planned to take over the tavern, but died before he could, succumbing to complications from multiple sclerosis.
The Stroppel family decided to reconsider the future of the tavern. "I think the culture was changing in terms of people going out to drink and it was hard for a lot of bars to stay open at that time," Frederick Stroppel said.
Stroppel's is now listed as a historic monument. The building is owned by the American Community Bank, which replicated some of the original structure, such as the old porch and narrow tavern windows after it was demolished.
"If you were a Stroppel fan, or knew someone who was, you'll feel right at home," said Amy Driscoll, director of the North Shore Historical Museum, referring to the upcoming exhibit.
Much of the tavern's memorabilia remains in the Stroppel family and will be donated to the museum, including the building's original front and back doors, photos of patrons, bar stools, a photo of the many roosters that walked behind the building and softball team uniforms associated with the Stroppel Tavern.
Frederick Stroppel said his family's business was a place where the community would get their information about events and people in the community.
"It's one of those things that's missing these days," Fredrick Stroppel said. "A community center where people could really engage with each other and talk about the good old days."
Frederick Stroppel said that during the tavern's opening hours of 8 a.m. to 4 a.m., patrons could come in at a certain time and find out who was going to be there.
As a writer, Stroppel credits his early understanding of human nature to the time he spent working on it as a teenager. His grandparents lived in the upper part when he was growing up.
"It was a little crazy at times, but overall it was a very quiet place," he said.
Terry Stroppel, wife of the late Jack Stroppel, said being at the tavern was like being with extended family. "Everyone got along and respected each other," Terry recalls.
The Stroppel family saw many posts on their social media accounts from former customers or people who had relatives who frequented the tavern. People shared their memories of events like horseshoe tournaments.
"Not everyone is here, unfortunately," Terry said. "But it's the history of the town, and I think it will be fun to have a little event and bring back the memory for a short time."
Stroppel's "last call" will be at the North Shore Historical Museum, 140 Glen St., on September 24 from 6-8 p.m.