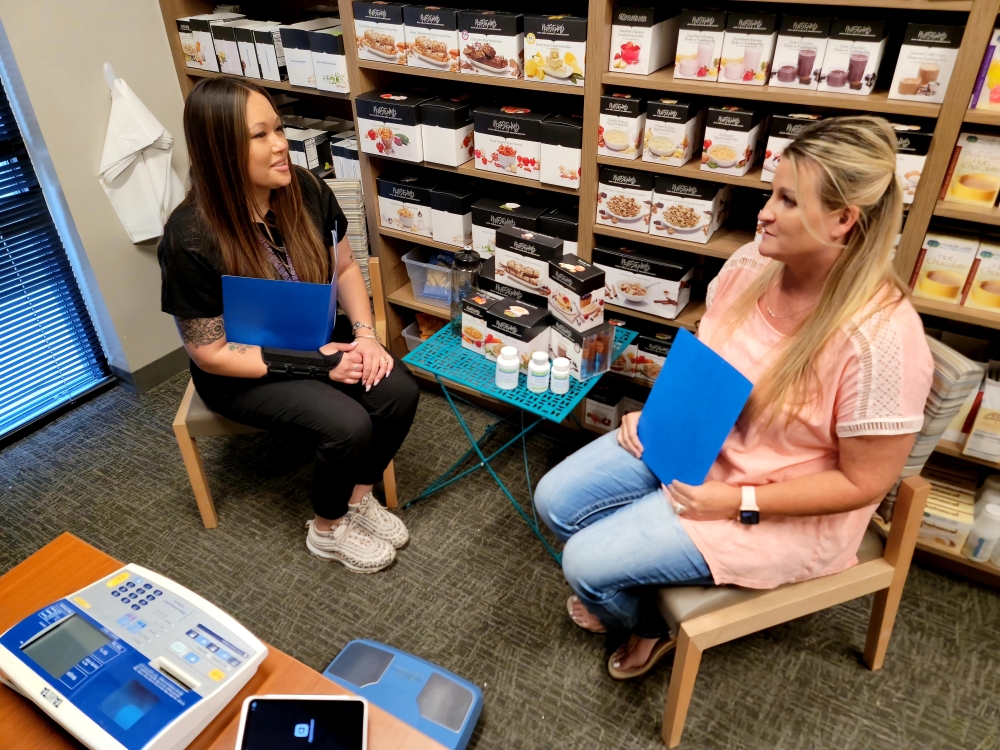 Weight loss diets can be intimidating, and misinformation about diets often leads to poor results and frustration. For those looking for a lasting lifestyle change, the NextStep® Weight Loss Program at Texas Diabetes and Endocrinology helps dieters achieve their goals alongside passionate coaches who focus on support and education.
At the start of the program, dieters establish criteria for success and discuss current obstacles in their daily lives that have prevented them from achieving their goals in the past. NextStep® Health and Wellness Coaches like Heather Andrews are committed to understanding how the program works with each person's individual needs.
"[Dieters'] the goal is just to have a better quality of life, and we can help identify what that looks like," Andrews said. "It can be anything from 'I want to be able to have an activity with my grandchildren'… to someone who wants to fit into a certain dress size. Some want to prepare for an upcoming surgery. Some just want to have reduced medication.
Open to all people, regardless of existing health complications, the three-phase plan was designed to not only help people feel better, but also to maintain their goal weight once the process is complete through a continuous learning and encouragement.
First phase: the weight loss phase
During the initial phase, dieters incorporate three NextStep® products into their daily lives, in addition to lean protein and vegetables. Instead of eliminating carbohydrates, the daily carbohydrate intake of dieters is controlled by these special products.
"Our vision with this is that we want to make sure they lose weight by burning body fat and don't lose weight by sacrificing muscle mass," Andrews said. "We've learned that over time, when someone loses weight by sacrificing muscle, they don't keep that weight off."
Texas Diabetes works directly with the manufacturer of their products, making them available exclusively to NextStepMD patients. Protein shakes, drink mixes, soups, chilis, oatmeal, granola, chips, and sweet protein bars are just a few of the tasty options. With 15 grams of protein per serving, the daily average for dieters is 35 net carbs.
"I've been a trainer for seven years now… Every person who follows the system is going to lose weight by burning body fat," Andrews said. "I have worked with hundreds of people, and if they follow the program, they will lose weight by burning body fat."
During all three phases, the Dieter Health and Wellness Coach is available weekdays and weekends to help plan meals, provide encouragement, and offer travel and event advice.
"What sets us apart from other diets is our level of support," Andrews said.
Another key aspect of success during this phase is supplementation. Dieters will take three supplements: a multivitamin, an omega combination of essential fatty acids, and a calcium, magnesium, and potassium supplement called essential minerals.
"[Supplements] are designed to give the dieter what they are not getting from our food, and so this is very important for their overall feeling while they are in phase one as well as how their body processes the diet himself," Andrews said.
Phase 2: eliminate a product to incorporate more protein
Once the dieters personal goal is achieved, phase two begins. During this short phase, participants begin to prepare for life after the diet by eliminating one of three daily products to incorporate more lean protein. Andrews said the most exciting part of coaching dieters is their newfound enthusiasm for their improved quality of life.
"If someone follows the program, they have reduced their carbohydrates considerably. If they have an indulgence, that's when they stop and acknowledge, "Oh, my stomach didn't feel so good." I felt a little slower. I wanted to go to sleep earlier," Andrews said. "Most of them don't realize it until they clean up their diets."
Phase 3: Custom Adjustments, Ongoing Responsibility, and Maintenance
While phase one and phase two are almost identical for each dieter, phase three is extremely personalized. With the help of NextStepMD health and wellness coaches, adjustments are made based on factors such as activity level and health risks.
"We work with them every week to develop this plan, see how their body responds, and then make any necessary adjustments. Once we see we've found the perfect formula for them, they continue to demand accountability," Andrews said.
Education is essential throughout each phase, but during phase three, coaches stress the importance of learning about nutrition to ensure long-term results.
"We are very proud of [Phase Three] because we really educate [dieters] about macronutrients and the importance of meal planning and incorporating whole, fresh foods," Andrews said.
After discovering the perfect diet formula, they attend regular follow-ups for approximately 12 months, but can return to Texas Diabetes for accountability meetings at any time for the rest of their lives. If someone completes all phases and falls back to their old eating habits for any reason, they can start over with phase one at no additional cost.
"The good thing is that when they're on our program, they only pay for their food and supplements as they need them. They don't pay for our coaching, which I think is invaluable," Andrews said.
The personalized treatment plans and level of camaraderie instilled in the NextStep® Weight Loss Program are the foundation of all Texas Diabetes & Endocrinology services. Experts in diabetes, thyroid, osteoporosis, weight loss and hormonal conditions, their main focus is personalized therapies and unwavering support.
Texas Diabetes & Endocrinology has three locations in Central Austin, Round Rock and South Austin. As one of the few endocrinology centers in the region, new patient slots are reserved to ensure that no patient is ever turned away. Learn more about Texas Diabetes & Endocrinology at texasdiabetes.com.
The story above was produced by the Community Impact storytelling team with information provided solely by the local business as part of their purchase of "sponsored content" through our advertising team. Our promise of integrity to our readers is to clearly identify all CI Storytelling posts so that they are separated from the content decided, researched and written by our journalism department.