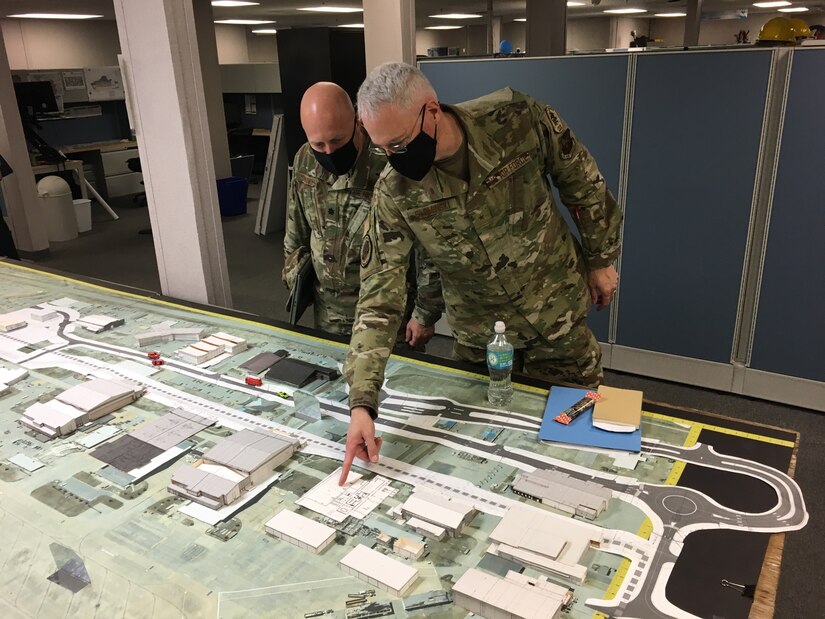 TYNDALL AIR BASE, Florida (AFNS) –
The Air Force Civil Engineering Center and U.S. Army Corps of Engineers have teamed up before, but never on such a Herculean effort.
Prior to Hurricane Michael's direct hit on Tyndall Air Force BaseOn October 10, 2018, USACE assisted AFCEC with two to four new military construction projects per year at Base Florida, ranging from $ 1.6 million to $ 17.8 million. After 2018, that number more than increased tenfold when AFCEC turned to USACE to meet the challenge of rebuilding the base.
Today, USACE experts are assisting over 40 new military construction projects, or MILCONs, while simultaneously overseeing over 100 new facilities in the reconstruction of Tyndall AFB as the Installation of the future.
"We are working closely with USACE to develop rebuilding requirements, and through planning and programming to ensure that we are able to build the facilities we need on time," said Keith Kellner, deputy director of execution for natural disaster recovery. Program Management Office at Tyndall AFB.
The NDR program serves as a strategic reserve of expertise equipped to cope with current and future natural disasters and improve the resilience of facilities. As the Department of Defense construction agent primarily responsible for new MILCON facilities and infrastructure, USACE is responsible for the design, reviews, construction timelines, contract award, and oversight of construction. construction from start to finish. Together, the two organizations help 325th fighter squadron and the Air Force Department is entering the 21st century.
In addition to over 40 MILCON projects at Tyndall AFB, USACE also oversees some of the more complex Facility Maintenance, Restoration and Modernization, or FSRM, projects for buildings that can be repaired. With tight delivery times and the overall complexity of the reconstruction scope, USACE relies on support from its districts of Mobile, Alabama and Savannah, Ga., Its engineering research and development center and d 'other centers of expertise.
"The reconstruction mission at Tyndall, creating a fully connected smart infrastructure package, has the potential to educate Air Force and Army leaders by building on the lessons learned and the successes of its reconstruction to achieve innovations across the Department of Defense in the future, "said Lance Marrano, Tyndall Scientific and Technological Innovation Advisor for USACE's ERDC.
Even before Hurricane Michael hit Tyndall, USACE's ERDC was exploring what future military installations should look like. With the abundance of technological advancements and recent innovations in the public sector, Marrano said their research focused on ways to integrate improvements in connectivity, infrastructure, energy resilience and community services into the community. within the military, while maintaining cybersecurity.
"Bringing the knowledge and experience of USACE, to successfully capture these public sector innovations and adopt them into the facility of the future, will allow our military to evolve," said Marrano. "However, this is no small task as we are more secure and everything has to be seen through this lens."
While one base is synonymous with "facility of the future," Col. Travis Leighton, NDR program chief, recognizes the potential to radically change the way the Air Force operates and maintains all of its facilities.
"We have a unique opportunity here to explore these innovations and improve how the Air Force supports the power projection of its facilities in the future," said Leighton.
The nearly $ 5 billion reconstruction at Tyndall will be a five to seven year process, which includes more than 40 new MILCON projects and 260 FSRM projects. To learn more about these efforts, visit the Tyndall Program Management Office website.