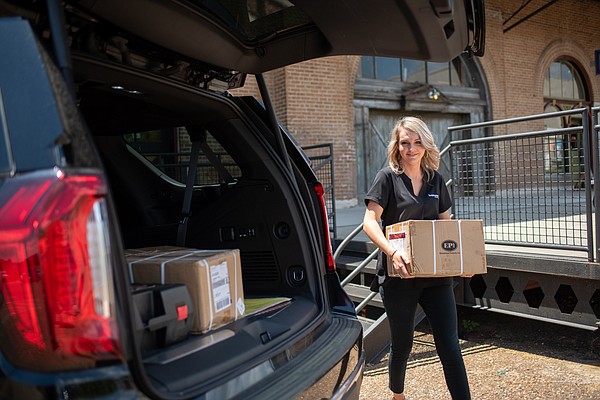 Editor's Note: This story is the latest in an occasional series about young leaders and entrepreneurs trying to make a difference in Texarkana.
TEXARKANA – There are only 24 hours in a day, but Natalie Copeland manages to occupy as much time as possible by being as productive as possible.
She is the newly promoted operations officer at Bobcaw Bank, an incoming student of Leadership Texarkana, a board member of the Greater Texarkana Young Professionals, and a volunteer for the Texarkana Animal League.
The list does not end there. When she has no prior obligations, she spends her time as a member of Texarkana Elks Lodge No. 399, where the emphasis is on supporting veterans. Copeland also sits on various committees within the GTYP.
She was a member of GTYP for three years and worked to help with events such as Destination Downtown, the annual golf tournament, monthly networking events and quarterly service projects.
In addition to her volunteer work and earning her bachelor's degree in communications from the University of Arkansas at Fayetteville, Copeland credits her support system for helping her on the path to success.
"I was blessed with wonderful parents who always pushed me to the best of my abilities," she said. "I've also had great employers and mentors over the years, and I've never turned down an opportunity to learn or try something new."
Whether those opportunities are to "do the prep work," as Copeland puts it, or simply to help out when needed, there's no obstacle she won't overcome. She is used to and happy to put in the extra energy, hours and skills needed to complete a project.
"I'm kind of just 'that person' who prefers to operate that way, but it's paid off so far," she said in reference to her willingness to move beyond.
His relentless desire to learn new ways to improve carries him along his career path and civic responsibilities. Copeland recognizes that her nonprofit involvement strengthens her ability to achieve the goals she has set for herself.
"My involvement in nonprofits has provided me with a wealth of resources that have helped me grow professionally," Copeland said. "I never meet a stranger and love to go out and socialize, and because of this I have made countless relationships which have also proven to be beneficial."
The biggest change in his career so far has been a recent promotion to operations officer at Bobcaw Bank in Texarkana, Texas. Accepting this new role forced her to adapt to a "new world" and learn new skills.
"I've shifted gears with this role change, and there's a lot of 'new stuff' that I'm doing my best to soak up like a sponge," she said.
One of the themes of Copeland's story is her willingness to work with others and her understanding that collaboration is mutually reinforcing, whether in her career or in her civic engagement. His observations of others in the non-profit and private sectors gave him insight into what makes a good leader.
"There are many similarities between leadership and management, but there is a thin line between the two. Management is task-oriented, while leadership is people-oriented," she said. "A great leader sets the vision and inspires others. More importantly, in my book, a great leader shapes the culture. If the culture is lost, everything else will also be lost."